Wall mounted electric fireplace is the best choice for small rooms
Choosing a wall-mounted electric fireplace can help you save up room space by sticking it on the wall. The LED technology with variable lighting settings, creates a very realistic winter atmosphere. In several cases, a wall-mounted fireplace is one of the best options:
An electric fireplace wall mount perfect for rental property
If you don't have a house of your own. If you need to rent an apartment. Cutting dry walls and installing built-in electric fireplaces are almost always impossible. But a electric fireplace hanging in the wall is very convenient in this case.
You should put the electric fireplace on wall in a limited space
If you live in a small apartment or home, floor space is a precious commodity. The advantage of an electric wall-mounted fireplace is that it does not take up any floor space. Although the portable fireplace or corner media unit may look good, it still takes up floor space. With a wall-mount device, you can install it away from the height or height you want to hang on the wall.
How can I choose the best electric wall fireplace
There are several issues to consider before buying a wall-mounted fireplace.
Measure size of the wall space to install an electric fireplace
You need to consider the room where to install the electric fireplace and its appearance. The wall you choose should be three to six feet away. From all directions, and can withstand the weight of the fireplace. Generally speaking, it should not be much bigger than TV. First measure your wall space.
Choose an energy efficiency star electric heater
Although energy efficient wall-mounted heaters are often expensive in front. They will save you operating costs. They can heat the size of the designed room more efficient. And energy-saving models can reduce costs by using less electricity. Looking for Energy Star Seal shows a more environment friendly and efficient model.
Keep in mind the power capacity of an heater insert
The force behind the electric insert is more important than it out size. The size of the room will determine the amount of power you need. Generally speaking, what you see is 10 watts per square foot. Measure the room to calculate the power required to effectively heat the room. If the fireplace heater is too large, it will waste energy. And too small heaters will not be able to heat effectively.
Way to install an electric fireplace wall mount
It is easier than people think, but it is not difficult to install a wall-mounted fireplace. To be honest, the recessed model is more difficult to install, especially if you haven't dug the hole out yet.
For the hanging model, you will find this process very simple. Measurement is the first and most important step. Be sure to measure it three times so that you can make sure it is correct! Make sure there is enough clearance on each side of the heater.
If you are a hardwired heater, you need to find the cable route. If the heater can plugged in direct, then you need to make sure there is a plug and socket nearby. When you choose a wall-mounted fireplace, consider the length of the rope.
You need to install a mounting bracket on the wall. Measure the position of the hole on the bracket. Use these measurements to drill holes in the wall to pinpoint the position of the bracket. When fixed to the wall, your embedded fireplace insert can put direct into the bracket.
If you don't take into account some of the safety risks of real fires. You'll have the same experience, no hassle with an electric fireplace log heater.
Remember to measure the power cord and make sure it is long enough to reach the plug and socket closest to the wall. Where you want to install the fireplace.
electric fireplace wall mount ideas
We have included pictures of the electric fireplace design ideas at home. Which may provide some creative inspiration for your project.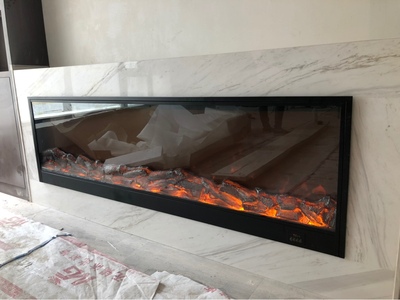 electric fireplace wall mounted 50inch
https://www.fireplacecraft.com/electric-fireplace-ideas-23-62.html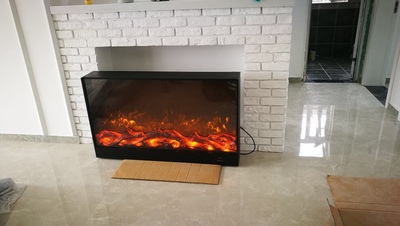 electric log heater insert fireplace
https://www.fireplacecraft.com/electric-logs-fireplace-inserts-23-29.html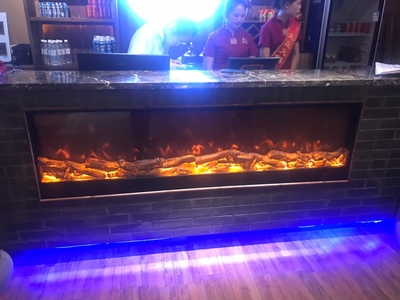 electric insert fireplace
https://www.fireplacecraft.com/decor-flame-electric-fireplace-23-70.html


Electric wall mount fireplace reviews
If you're looking for a high-quality wall-mounted fireplace, take a look at these comments. We have provided you with some of the best models on the market to let you know what you are looking for.
1. Electric fireplace is very good, seller also integrity, decoration effect good. Make my room more inviting .

Color classification: 800x thick 175x high 600 wall furnace core.

2. You did a good job without defects process level, I love this samll electric fireplace, very good glass very through the seam accurate intuitive feeling: the overall look very good, effect is good.

Color classification: custom size consultation specific price.

3. I'm still satisfied with the electric space heater! The flame effect is realistic, the custom processing size is very accurate, basically does not have the deviation. The delivery time has also been advanced by a few days. There was a little problem in transportation, under the guidance of customer service, a small twists and turns were finally solved, customer service patience and meticulous, like! Before buying, the whole network has inspected, this boss is the most reliable, the personal test is worth recommending!

Color classification: custom size consultation specific price.

4. There is nothing wrong with this reccessed wall electric fireplace, and the size is very suitable. I hope the delivery service will be improved.

Color classification: custom size consultation specific price.

5. A very pleasant shopping, quality leverage, express door-to-door delivery really praise, the most important thing is, the artificial fireplace is as described in the picture, the flame is realistic, the size of the fire can be adjusted, decoration workers see all say good-looking, ask where to buy it, Happy Oh, beautiful shell, fine workmanship, and so on the house decoration out, the fireplace installed, take a video of the overall effect sent to you, ha, thank you sellers!

Color classification: 1220x thick 200x high 520 wall furnace core.

6. Customized built in wall fireplace for a long time, but the workmanship is good, the effect after installation is very good, high-end, please refer to.

Color classification: length 1000x thickness 175x high 600 wall furnace core.

7. Fireplace received, although encountered some small problems, but good communication with the seller solved, temporary site installation test took a picture. Looks like it worked well. Wait until the soft installation is finished before you add the picture. The installation is good ~.

Color classification: custom size consultation specific price.

8. The effect is very good, the quality is also very good, the best electric fireplace I've ever get. hope to have the opportunity to continue to buy.

Color classification: custom size consultation specific price.

9. A led fireplace in the super atmosphere, specially sized to fit into the grooves. I was worried that there was something wrong with the transportation or workmanship, but it turned out to be overworried when I received the goods. Very good products, very good sellers, very satisfied with a shopping. The next renovation will be bought back.
Color classification: 1485x thick 200x high 400 wall furnace core